Corsicana Homestead Collection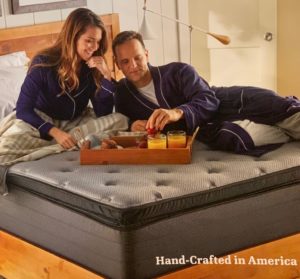 Have you ever spent the night in a high end hotel and thought that if you could only get your hands on one of those mattresses you would feel like you are on vacation every night?  Most consumers don't know that many of the same models in your favorite hotels are available to purchase from select dealers around the country.  Corsicana has been providing mattresses for Four and Five Star Hotels like the Historic Peabody Hotel, The Plaza in Las Vegas and Hilton for years.  I have written a lot on here about the benefits of commercial grade mattresses vs. residential grade so I wont go into all that but I would like to showcase a line that I recently saw in Las Vegas that really impressed me. I new Corsicana made some fine mattresses but the Homestead Collection is a whole new level.
The Corsicana Homestead Collection has many different models to choose form ranging from extra firm to extremely soft.  They are also adjustable compatible.    If you have read any of my other blogs you know that i am a big proponent of pure foams.  I am happy to write that all of the Homestead Collection mattresses and Certi-Pur certified.  They also have the most up to date features such as Gel Memory Foam, Gel Foam, Pocket Coils, Comfort Foam, Edge Reinforcement and Cooling Fabrics are just a few features that are offered across to line up.  You owe it to yourself to find a local Mattress Gallery and try these out.  In the coming weeks I will add most blogs about specific models.  So check back often for new content.